Chandinitravel - Stanger
Friday, 10 May 2013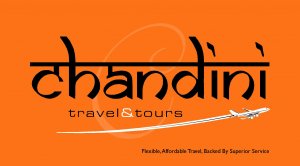 Item details
City:
Stanger, KwaZulu-Natal
Contacts

Madhuri Sing

032 5512800
Item description
Travel is our passion, Chandini Travel and Tours focus is Customer Delight, with 90% returning Customers
Chandini Travel and Tours is a dynamic travel agency offering clients cultural, historical, honey moon, adventure or leisure holiday travel packages, these are backed by a superior service. We are specialists in outbound and inbound destinations, and custom design packages to suit you. Chandini Travel and Tours offers packages to India, Egypt, Malaysia, Singapore, Thailand, Mauritius, Shri Lanka, China, Europe, South Africa and many more.
Chandini Travel and Tours is located in Kwa Zulu Natal. Stanger is enriched in the Zulu Culture and is home to the Great Chief Albert Luthuli. Popular tours include the King Shaka Heritage Tour, Kwa Dukuza Museum and Chief Albert Luthuli Tour. Kwa Dukuza (Stanger) is two hours away from the Umfolozi, Hlululwe game reserve. Chandini Travel is 20 mins from Ballito and 1 hour from Durban.
Although based in Stanger Chandini Travel has satisfied customers from all over South Africa and Abroad.
Chandini Travel's priority is Customer Service. Chandini Travel Consultants are friendly, efficient and always eager to assist you with all your travel needs and requirements. Our Consultants will provide you with all necessary Travel, Security, Health, Visa, Adequate Insurance and Destination advice. We are a one stop shop for all your travel needs. Chandini Travel Consultants work on minimum turnaround time and are capable of handling last minute confirmations. Our Consultants will provide you with a written briefing about Travel Tips, Security and health.
Chandini Travel has a 24 hour emergency Number to assist with any urgent queries whilst abroad. Chandini Travel's rapid growth is due to satisfied Customer referrals, over 90% of our Clientele are referrals and returning Customers. We have many Testimonials from ecstatic Customers.
Holiday is a lifetime experience, expect excellent service from Chandini Travel to ensure that you have a fantastic and memorable Holiday.
Having budgeted funds available when planning your trip, can save you money with potential exchange rate hikes.